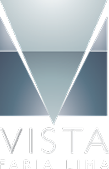 SPACIOUSNESS ALLIED TO LIGHTNESS, STYLE AND QUALITY OF LIFE IN THE PROFESSIONAL ENVIRONMENT
The project was designed by the architect Botti Rubin to meet the needs of companies seeking space with floor plates of approximately 1.000 sqm. Each floor is divisible in two blocks of approximately 500 sqm.
In addition to the excellent location, the building stands out by offering the most state-of-the-art technological features. There are no intermediary columns in the Vista Faria Lima floor plates, which permits efficient utilization of the occupied area, flexibility in interior space planning and optimization of organizational flow.
Vista Faria Lima meets all requirements demanded by the Triple A category, contemplating quality in finishing materials and the most modern systems of automation and building supervision, electric and hydraulic installations, air-conditioned, elevators, energy generation, telecommunications, thermal and acoustic comfort, among others.
Vista Faria Lima is already pre-certified LEED GOLD – Leadership in Energy and Environmental Project – awarded by the U.S. Green Building Council (USGBC).




03 EXIT OF VEHICLES/LOADING & UNLOADING



06 LIFT ACCESS TO PARKING GARAGE



Artistic illustration. Coverings to be used in construction are described in the project specification description. This plan may undergo variations as a result of municipal positions of public utilities in the site or the development of the executive project.


PROFESSOR ATÍLIO INNOCENTI STREET, 165.